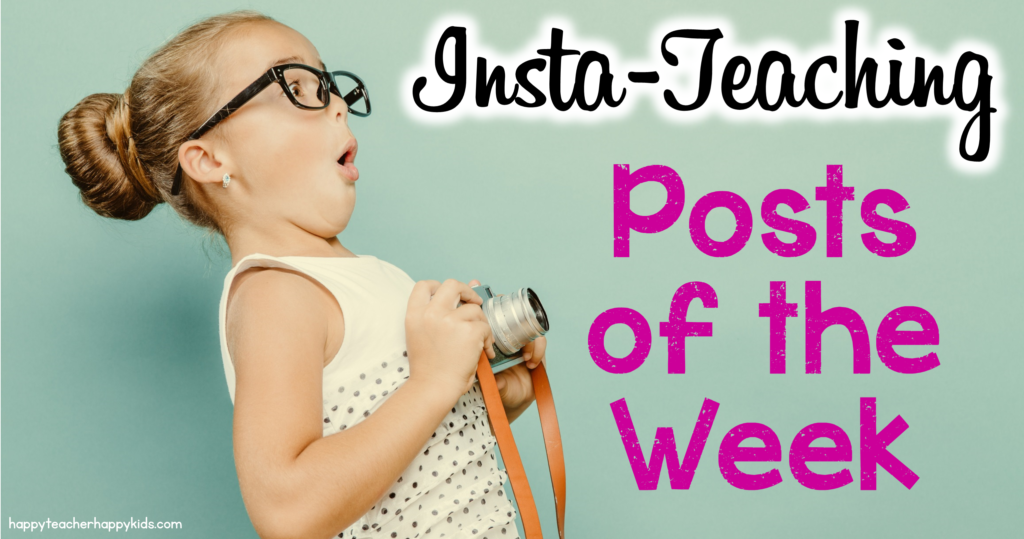 Instagram has become my favorite place (after Pinterest, of course!) to find new teaching ideas & inspiration. Here are my favorite posts from the past week. Be sure to click on each name in blue below and follow these awesome teachers!
I am the worst at remembering to take attendance on time. I have post it notes all over my desk & laptop but they only seem to help me every other day. Setting a reminder alarm is genius!
I have a very messy bunch of kids this year and I feel like our floor only gets picked up if I personally invite each student to pick up each piece of paper one at a time. Can you tell I'm over this?! I am totally trying these table recycling bins this week.
This is such a cool idea to freshen up a behavior plan at this time of year when the kids are starting to feel extra frisky!  And I now have a new shopping quest to find one of this spinning frames!
I don't think being irritated by pencil problems ever goes away so sending pencil sharpening home with parent volunteers sounds amazing!
I don't know what it is about first graders but they love to tie knots. I had two little friends on Friday both tie their shoelaces together into the craziest knots I have ever seen. They were totally shocked that we couldn't just pull them apart when the bell for recess rang and that they had to stay inside while their teacher struggled to free them! Well, now I'm ready to untangle any knots that come my way thanks to this great tip!
And this one was a little too relatable for the week back at school after spring break!
Check back next week for more Instagram inspiration!
Image credit: Shutterstock/Yurlymaging